1974...Girls wore miniskirts or, like many of the boys, wide-legged plaid pants. Hair for both sexes was usually long and frequently parted down the middle or worn Afro-style. While traversing the halls of SSS, our biggest concerns revolved around schoolwork, teachers, boyfriends/girlfriends, and our parents. After school, we drove school buses, worked at other part-time jobs, helped out at home, or socialized at the In and Out.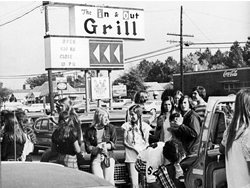 Friday nights were for chanting "I'm So Glad I Go to Triple S" while cheering on Spartan athletes and band members. We watched "Happy Days" and "The Waltons" on television and sang along with songs like "Killing Me Softly With His Song" and "Bad, Bad Leroy Brown".
We were aware of and influenced by a number of national events: Watergate, Patty Hearst's kidnapping, Hank Aaron breaking Babe Ruth's record, and N.C. State winning the NCAA basketball championship. But, in those not-quite-adult days, we probably spent most of our time pondering issues that involved ourselves: finding the perfect prom dress; filling out college applications; planning for full-time employment; and leaving childhood friends behind upon graduation.
It's hard to believe that 45 years have flown by since then. Won't it be fun to see each other again and to catch up a bit on all that's happened in our lives? Please take a few minutes to update information about yourself on the Students page, then join the fun at our 45th class reunion on September 21st.