---
"The French Club is one of the best at SSS. At each meeting, there is a well-planned program. In the French Club, we've got it together."

Extracurricular Activities - "Without them, it's like North Carolina without Smithfield."

Chorus -"They need some Negro spirituals, some soul music, and they don't need those student teachers."
- Mickey Cotton
---
RECENTLY UPDATED
None at this time
---
1974...Girls wore miniskirts or, like many of the boys, wide-legged plaid pants. Hair for both sexes was usually long and frequently parted down the middle or worn Afro-style. While traversing the halls of SSS, our biggest concerns revolved around schoolwork, teachers, boyfriends/girlfriends, and our parents. After school, we drove school buses, worked at other part-time jobs, helped out at home, or socialized at the In and Out.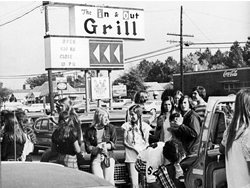 Friday nights were for chanting "I'm So Glad I Go to Triple S" while cheering on Spartan athletes and band members. We watched "Happy Days" and "The Waltons" on television and sang along with songs like "Killing Me Softly With His Song" and "Bad, Bad Leroy Brown".
We were aware of and influenced by a number of national events: Watergate, Patty Hearst's kidnapping, Hank Aaron breaking Babe Ruth's record, and N.C. State winning the NCAA basketball championship. But, in those not-quite-adult days, we probably spent most of our time pondering issues that involved ourselves: finding the perfect prom dress; filling out college applications; planning for full-time employment; and leaving childhood friends behind upon graduation.
It's hard to believe that 45 years have flown by since then. Won't it be fun to see each other again and to catch up a bit on all that's happened in our lives? Please take a few minutes to update information about yourself on the Students page, then join the fun at our 45th class reunion on September 21st.
---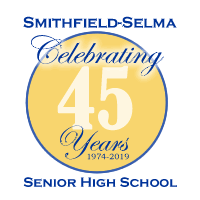 Reunion Details

Saturday, 21 September 2019
6:00 p.m. to 10:00 p.m.
Country Club of Johnston County
Food will be exceptional. Prepared by Chef Jerry. Details to follow.
Music by our own classmate, Tony Davis and the Martin-Davis Band
Cash bar
$30 per person
$125 sponsorships - includes 2 tickets
$250 sponsorships - includes 2 tickets/benes
Make sure to fill out the online R.S.V.P. form to let us know that you plan to attend.
Use the PayPal form below, or make your check payable to "SSS Class of '74" and mail to Lamar Armstrong at P. O. Box 27, Smithfield, NC 27577. Include current address, phone & email.
For additional information, call Lamar at (919) 934-1575.
---
Signed Up To Attend











RSVP Now!